Fire /Smoke dampers, The 5000 Series.
GENERAL INFORMATION:
The Functions:
Lowest

Initial

Leakage That will not Degrade Out of UL Leakage Minimums Even Into Point of Origin Fire Conditions.
Operating Capability in Point of Origin Fire Conditions Without Expansion Binding or Component Failure.
Maintain UL Fire Damper Capability as the Time in Fire Lengthens.
The Reasons:
For a Safe Evacuation Period of at least One Half Hour.
For Selective Pressurization as Fire Conditions Change; to Create Pressurized Safe Refuge and Fire Fighting Zones.
For Containment of the Fire in the Point of Origin for the Full 1-1/2 or 3 hour Rated Time Period.
Test Proven Operable After:
1,000 F – 1 hour.
1-1/2 & 3 hour fire and hose-stream testing.
4 hour international fire resistance.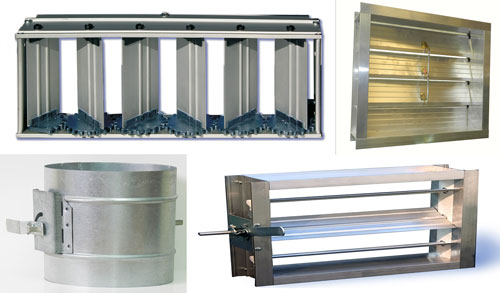 5000 ASF Damper Series Basic Features
Engineered and Test Proven:
1million cycles on dust loaded damper in varying air flow.
Seismic and fragility tested, QA available at extra cost.
1-1/2 hour UL classified for both horizontal and vertical mount.
3 hour UL classification available in vertical mount design.
Design for UL Leakage Ratings at 1000 F for 1 hour.
A Complere Line Of Power, Manual Damper Operators And Actuator Options Are Available.
Various automatic or manual damper operators with safety lock options available – factory or field mounted manual, electric, or pneumatic actuators are easily adapted.