Smoke Release & FireStop group
Metalpress designs, manufactures, installs and/or supplies wide range of automatic Fire/Smoke safety systems such as:
* Smoke Release Roof Domes.
* Smoke release Windows – transparent/opaque.
* Automatic Shutters.
* Fire stop.
* Fire/Smoke 2 hours rated Curtains – 600-1100 Deg.
* A wide variety of window actuators available with any opening mode and profile.
Actuators are fire–rated up to 3000 Celsius – 30 minutes and conform to European Standard EN 12101-2.
During the last 40 years, 3M has developed variety of fire protection solutions for buildings. These products were tested and approved by American and European Standards such as: EN, CE, UL/FM, ASTM.
Products are barriers against fire, smoke, acid fumes and humidity penetrating through walls, floors, tubing, air-conditioning ducts, etc.
Products are easy to install and quickly adhere to the majority of materials: concrete, gypsum wallboard, metal, plastic, wood and sealants. They are ideal to apply in blank openings, metal tubing access, plastic tubing, cables, cable trays, isolated tubes, tin ducts and joints.
The diverse products and systems provide optimal solution to every client's specific requirement.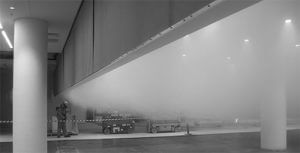 Curtains are the most cutting-edge technology worldwide to stop and prevent fire/smoke spread in large enclosed spaces.
The Fire PROtec Curtains are 2 hours rated, the Smoke PROtec Curtains are 2 hours rated – 6000 C.
By using the curtains, smoke can be managed in buildings. They also save the deployed number of sprinklers & fans.